Decks and Steps Brochure
Guide to Building Decks
For Single Family Dwellings, and Manufactured Homes where decks exceed 36 sq. feet
2018 NC Residential Code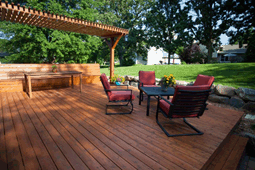 Johnston County Building Inspections
309 E. Market St., Smithfield, NC
(919) 989 – 5060
www.johnstonnc.com/inspections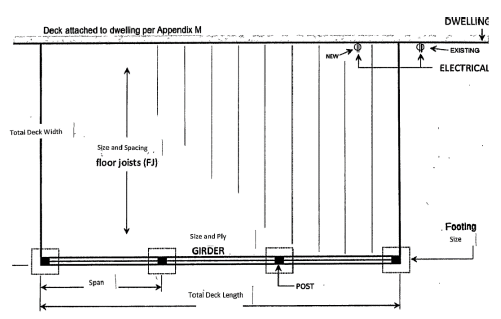 Drawings can be simple, like the example above.
Deck Construction Requirements
Overall dimensions (length, width, height)
Exact location of all footings
Center to center distances between all footings
Size of all footings (length, width, height)
Size and spans of all girders
Size, spacing, and spans for floor joist
Type of decking material used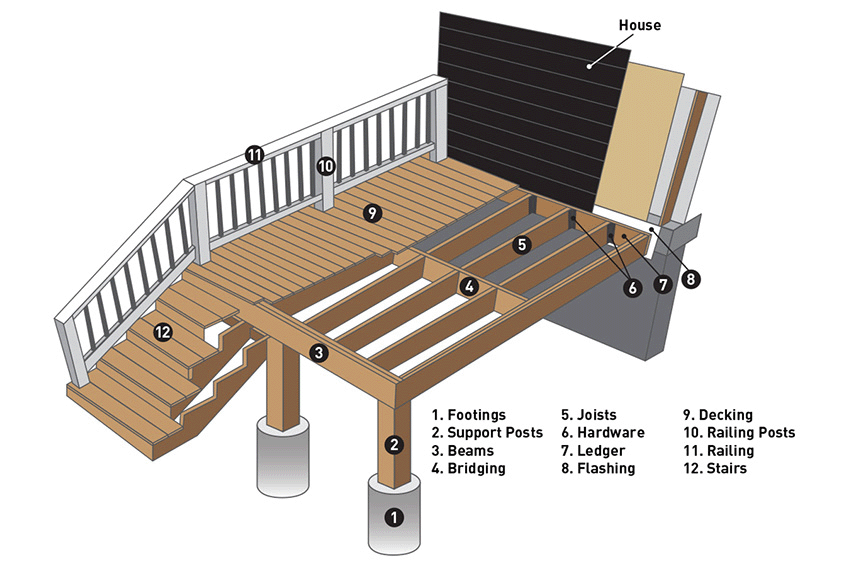 Deck Components
Footing
Support Posts
Girder/Beam
Bridging/Blocking if needed
Floor joist
Approved Hanger or Ledger Strip
Ledger board
Flashing(s) Aluminum not permitted*
Decking
Rail posts
Railing/Guard
Stairs
Deck Permitting Checklist
Site Plan
Copy of Septic Permit (Does not apply to sewer)
Zoning Permit
Completed Permit Application
Copy of Plans
How much does a Deck Permit Cost?
$12.50 Land Use/Zoning Fee
$60.00 Building Permit
$60.00 Electrical Permit (if needed)
*$10.00 Homeowner's Recovery Fee (applies to General Contractors Only)
Can I Do the Work Myself?
Yes, if you are the homeowner, reside there, and you will be the one performing the work. You must sign the Owner Consent Form and you must reside at the same property for one year after the work is completed. Jobs costing less than $30,000 may be done by an unlicensed contractor. Electrical, Plumbing, and Mechanical must be done by a licensed individual if not done by the homeowner, who resides at the property.
** See Appendix M for specific code requirements.
** The information in this brochure is not all inclusive and has been derived from the current edition of the NC Residential Building Code. Please consult applicable code sections for more detailed information. Information on this page is not intended to replace any part of the code sections.
View and/or download the Decks Brochure in PDF
(Deck Brochure publication date: April 28, 2022)